Success.. We all want to be successful and feel successful. It's something we look for in different aspects of our lives: a successful marriage, successful career, being successful as a parent, being successful with our fitness goals, and a lot of other things without ever stopping to ask one essential question: What, actually, is success?
Have you ever paused to consider what success truly looks like to you? If you haven't asked yourself this question or if you don't have a clear answer yet, we can end up climbing the wrong ladder and get to the top only to discover we climbed the wrong mountain.

Did you know the number one reason people struggle in reaching their goal and fail to be and feel successful is because of a lack of support and accountability? And that the second reason people fail is because they don't have a clear idea of what success looks like?
This is simply because they haven't answered the question and achieved clarity; most people have a general idea of what they want, but never know when they reach their goal because it started out a little fuzzy around the edges to begin with.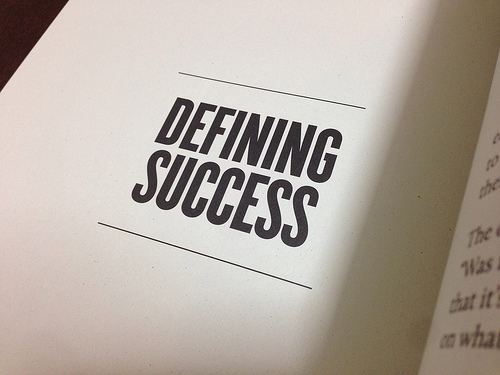 Success is both a goal and a journey. When we reach certain milestones, that is an element of success.

But we don't stop there. We push higher and harder, striving for more to be better.
Tony Robbins says, "The path to success is to take massive, determined action." But how do we find our path? What steps do we take to achieve true success?
The first important step to take is to better define your goals. They don't have to be crazy huge or intimidating goals like "I want to look like Arnold Schwarzenegger in 3 months." Start with something small, even if it's just taking a 10 minute walk per day to get started on a cardio goal. Find small goals you can accomplish that will take you to the next level.

After we've defined our goals clearly, then we can start moving towards success. How do we do that? Well "success" is not just a pretty word that you can stamp on yourself after reaching your goals (though it sure does feel nice at the end, doesn't it?); success is a road-map to HELP you reach your goals. If you break down the word, each of its letters means something specific that will help you stay on the right path….



S-see your goal

U-understand the obstacles

C- create a positive mental picture

C- clear your mind of self doubt

E- embrace the challenge

S-stay on track

S-show the world you can do it


Part of being human means you will make mistakes and doubt yourself. When that moment arises, go through S.U.C.C.E.S.S. like a checklist - a map that will guide you back to the road to your goals.
What mountain are you climbing? Is it the right one? Or are you going to reach the summit and see your mountain off in the distance?
Start on the right path today. Need help finding your road to success? Click here to schedule your free consultation to turn that plan into action.
To your success!